C4 Super Comp Transmission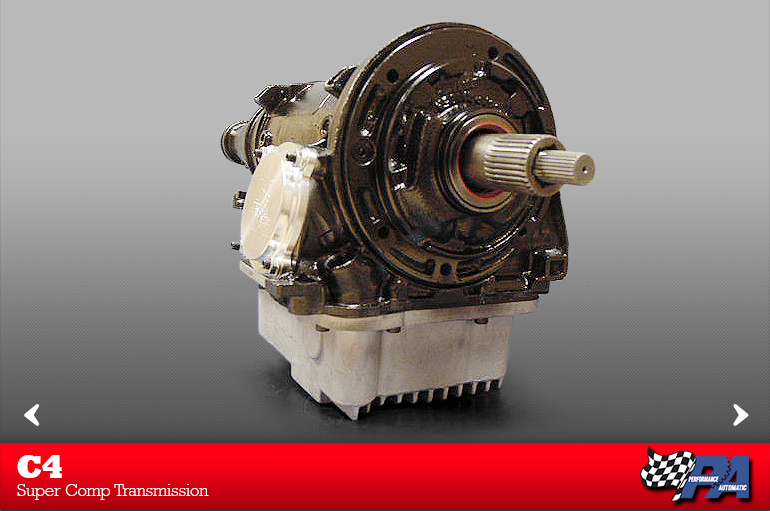 Representative image(s) may not reflect actual part number selected
Ford had a tough little transmission with the C4 when it debuted in 1965.

Performance Automatic took over from
there and turned this compact 3 speed into a unit that can withstand 1000 horsepower! Whether behind a four
cylinder or a big block, Performance Automatic has the expertise and the parts to build the industry's best.

We offer the country's most respected performance transmissions and warranties that can't be beat!

Track tested and built for round after round of competition,
Performance Automatic's line of Super Comp transmissions have proven themselves time
after time. Using only the best cores as a foundation, Performance Automatic inspects
and cleans every part and then checks the tolerances to insure exceptional performance.
Premium clutches and bands compliment the precision assembly by our trained
technicians. Our own transbrake is tested and installed assuring you of a transmission that
will take you to the final round and is rated to 1000 horsepower. Shift the best, go with
Performance Automatic!

Features:

• High Performance racing clutches
• Pro shift servo
• Hardened input shaft
• Pro Pump
• Deep Aluminum pan
• Reverse manual transbrake valve body
• 6-Pinion Power Planet
• Lifetime warranty

Performance Automatic's C4 Super Comp
includes everything shown here, as well as a LIFETIME WARRANTY!

Lifetime Warranty Information:

• Warranty work will only be performed by Performance Automatic, inc.

• Warranty is not transferable

• Customer pays all shipping costs
• Warranty does not cover damage caused by accident or improper installation.