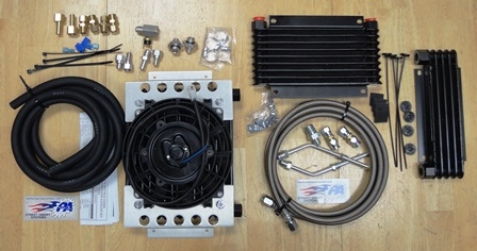 NEW TRANS COOLERS & KITS
Performance Automatic is now offering a variety of transmission coolers and cooler kits. These kits are available for Ford and GM transmissions. A step up from Tube & Fin type coolers, our Plate and Fin coolers feature strong furnace-brazed construction, embossed turbulators which maximize heat transfer while also minimizing pressure drop. Very popular with Muscle Car enthusiasts and Street Rodders for use on their vehicle for just cruising or taking that long trip to a car show. It greatly extends transmission life by preventing heat-related transmission failures, and improves shifting performance. We offer 5, 9 and 15 row coolers with GVW ratings of 14,000 lbs and up, so we have the correct cooler for your application. The 15 row cooler comes with an electric fan so it will keep your trans will cool in extreme conditions, perfect for autocross or road racing! All of our kits include 11 feet of steel braided or performance engineered line which you can easily cut to the exact length you need. Plus, we supply all the proper fittings and hardware made for either your GM or Ford transmission.
Performance Automatic not only offers some of the country's most popular transmissions and torque converters, but all the other components and accessories associated with any quality transmission installation or upgrade.