Smart Shift Transmission Controller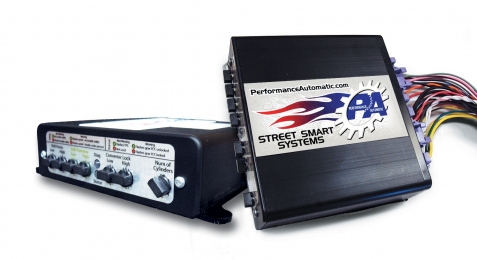 Smart Shift Transmission Controller
FOR IMMEDIATE RELEASE
PERFORMANCE AUTOMATIC'S "SMART SHIFT" ELECTRONIC
TRANSMISSION CONTROLLER





Performance Automatic's "Smart Shift" Electronic Overdrive Transmission Controller is now available for the GM 4L60E, 4L65E, 4L70E, 4L80E and 4L85E. The "Smart Shift" comes pre-programmed for a direct plug in and drive away installation. No downloads or computer hook ups required. The complete wiring harness is included for your specific application and each connector is clearly labeled for easy installation. You can fine tune you shift points, shift firmness and torque converter lock up using the easy to use knobs on the end of your "Smart Shift" Complete controls at the end of your finger tips! Our "Smart Shift" transmission controller works great with any Street Rod, Muscle Car, Resto Mod or Pro Touring Car. Let "Smart Shift" connect that modern electronic overdrive transmission with your engine.

Performance Automatic is an authentic American transmission manufacturer dedicated to the design, engineering and quality of the country's most respected performance transmissions. For more information, please visit our website www.PerformanceAutomatic.com or follow us on Facebook.